About Us
Providing quality construction layout and surveying services for the AEC industry.
To be considered the preferred provider of construction layout services in the Portland area.
Mission Statement
Founder Tim Verney is a Licensed Professional Land Surveyor in Oregon, Washington and California.

He received his Bachelors Degree in Surveying Engineering from California State University, Fresno.


About Us
TRV Surveying, Inc.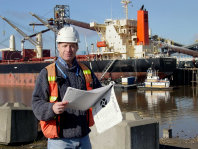 Company Goal
Professional Associations:
TRV Surveying is Certified by the Oregon State Office of Minority, Women, and Emerging Small Businesses as an Emerging Small Business (ESB). Our ESB certificate number is 3617.
Since that time TRV developed expertise in construction layout for
commercial, industrial, medical and high tech projects.

We have built a solid reputation for all aspects of our superior layout services, whether it be on time, on budget, or completing the work right the first time.