Construction Layout
We have built a solid reputation for all aspects of our superior layout services, whether it be on time, on budget, or completing the work right the first time.
At TRV we understand construction and the special needs for construction layout.
Safety is one of the core values here at TRV. Each staff member has undergone numerous hours of safety training specifically for construction. To date, TRV has never had a recordable or loss time incident.
Safety



TRV Surveying, Inc.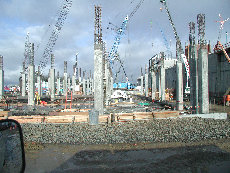 Quality

We have experience performing site "calibrations" for GPS machine controlled grading and excavation.
Experience
TRV has successfully performed layout for office high rises, hospitals, roads, bridges, railroads and marine facilities.